Crypto
STEPN Price Prediction 2022-2030 | Cryptopolitan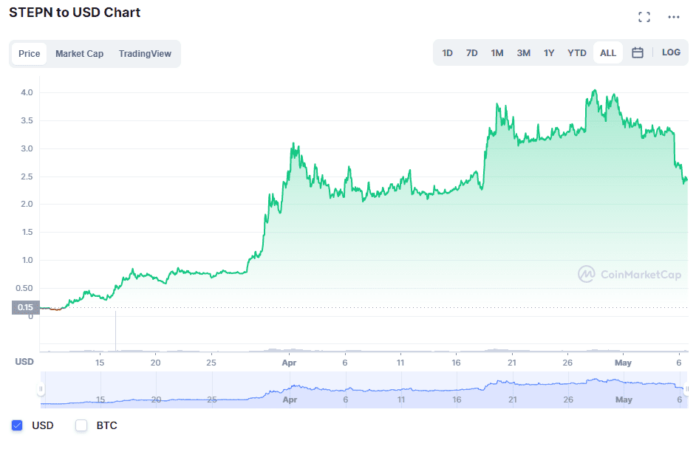 The crypto ecosystem has shown itself to be a vibrant and ever-changing place, with new ideas and concepts constantly emerging. Since the DeFi breakout of 2020, we've seen many advances in the blockchain space, such as Play-2-Earn, Non-Fungible Tokens, Metaverse, etc. All of which are attracting the interest of investors.
Move-to-Earn (M2E) is another relative innovation making waves in the cryptosphere. The phenomenon rewards users for staying active and fit. M2E is already being implemented by several platforms, including STEPN, SweatCoin, and others. STEPN is garnering much attention due to its offerings, and investors are looking to make profits from the network's native token. Could it be the next Shiba Inu?
STEPN is compared to Shiba Inu (SHIB), due to gaining up almost 2,000% since early March. Another point of comparison is that STEPN, in its early days, is top trending on CoinMarketCap. However, STEPN already has a lot more utility than SHIB.
Today's live STEPN price is $0.595117 with a 24-hour trading volume of $302,811,705. We update our GMT to USD price in real-time. STEPN is down 2.47% in the last 24 hours. The current CoinMarketCap ranking is #79, with a live market cap of $357,070,187. It has a circulating supply of 600,000,000 GMT coins and a max. supply of 6,000,000,000 GMT coins.
This guide provides you with all you need to know about STEPN, including its price history, mode of operation, and price predictions for the future. Let's get into the details!
What is STEPN?
STEPN is a Web3 move-to-earn fitness and health lifestyle mobile application with game finance (GameFi) and social finance (SocialFi) elements. The team behind STEPN is Find Satoshi Lab, a fintech studio based in Australia.
The project runs on the Solana blockchain, and its basic concept depends on most people's daily activity, which is "moving around." STEPN emerged as the 3rd runner-up at the Solana Ignition Hackathon of 2021 and remained the first project to implement the move-2-earn concept functionally.
The GameFi component of STEPN is intended to help the platform drive millions of users toward a more healthy lifestyle, combat climate change, and discourage vehicles with high carbon discharge. On the other hand, STEPN's Social Finance component intends to build a platform that encourages user-created web3 content.
How does STEPN work?
STEPN leverages a two-tiered token system. The two types of tokens accessible in the ecosystem are GMT and GST, each of which can be obtained uniquely.
STEPN users earn in-app rewards in the form of in-game tokens – Green Satoshi Tokens – GST, for running, walking, or jogging. While Green Metaverse Tokens – GMT is a governance token and can also be used to boost earnings, pay fees, upgrade the features of NFT sneakers, progress through the various modes of the game, or cashed-out for profit on supported crypto exchanges.
The STEPN app is embedded with several GameFi features:
Game Modes: STEPN is in its beta phase and currently only offers a solo mode to users. The two other game modes, Background and Marathon modes, are undergoing development and will be available soon.
Sneakers: These are Non-Fungible Tokens with different attributes such as comfort, resilience, efficiency, and luck. Sneakers enable users to earn in-game tokens, and they can be customized and upgraded by burning Green Satoshi Tokens.
Gems Sockets: After attaining a particular sneakers level, STEPN users can gain access to some gems to improve the attributes of their sneakers.
Shoe Minting: When users get two (2) NFT sneakers, they can go on to mint Shoeboxes. Minting cost will be dependent on the category of the initial sneakers and the newly received ones.
Badge: Users can earn various badges by executing different in-game objectives. These badges can provide benefits that can be used to impact the game experience. For instance, users with badges can enjoy reduced minting costs, bonus points, governance perks, or extra energy. This feature is currently undergoing development.
To get started on the app, users will need an activation code currently available via the project's discord group on an invite-only basis. An activation code is issued every twelve (12) minutes, making it a struggle to get on the STEPN wagon these days.
Applications of STEPN
Mobile application: STEPN is live on iOS App Store and Google Play store (Restricted to certain countries).
Sneaker NFT: Every sneaker has different types, qualities, attributes, and gem sockets. Users can burn tokens to level up and customize sneakers.
Move and Earn: Users equipped with sneakers NFT can move outdoors and earn tokens. There are multi-layers anti-cheating mechanics to prevent exploitation.
Rental system: Users can rent a sneaker for free, move and earn and then split the earnings with the sneaker owner.
In-app swap: Users can swap their token earnings to other forms of cryptocurrencies.
In-app decentralized wallet: Users can deposit and send cryptocurrencies to the wallet to fund their spending accounts.
Where to buy STEPN GMT
If you are interested in trading STEPN (GMT), it is available on several well-known exchanges Binance, OKX, MEXC, DigiFinex, Bybit, Huobi Global, Coinbase, Gate.io, PancakeSwap (DeFi Exchange), and others.
STEPN Partners
The project won a Solana (SOL) hackathon and has some big-name backers. Indeed, being listed on Binance is one reason for its recent success. One of the most positive signs for a continued GMT bull run is the line-up of venture capital (VC) investors in the STEPN project:
Binance Labs
Alameda Research
Sequoia Capital
Folius Ventures
Solana Ventures
6th Man Ventures
Sfermion
How to purchase STEPN tokens
To buy GMT, follow these steps:
Create an account on your preferred exchange, and complete KYC.
You can buy STEPN with your credit or debit card or use the supported trading pair on your select exchange.
STEPN GMT Price History
STEPN's native token, GMT, has continued to gain a lot of traction across the internet since its launch in March 2022. The token's trading volume has outperformed several other established tokens and dominated significant exchanges.
GMT started at $0.1536 on March 9, 2022, and reached $2 by the end of the month – an ROI of over 1200%.
GMT reached an all-time highest price of $4.11 at the end of April, but corrections soon followed. The current price of STEPN is $2.44, and its market cap is $1,472,461,765. In the past 24-hours, the value of STEPN and its market capitalization had decreased by 9.58%.
STEPN  Technical Analysis
The STEPN price prediction is undoubtedly based on a careful analysis of its price chart, considering the cryptocurrency's previous trends and current price. When looking at the trend lines, the prices recently started to bounce back, above the 200 MA (Moving Average) line. The most likely trend after such a breakthrough is the GMT price to start retesting its new resistance levels following the upward predicted trendline. These analyses are optimistic, despite the general bear market feeling that has engulfed the current crypto market. The STEPN coin is therefore expected to recover much faster than the overall crypto market, allowing investors to gain significant returns from both short-term and long-term holdings.
STEPN  Price Predictions 2022 – 2031
Undoubtedly, GMT STEPN price prediction is clouded by several uncertainties due to the general performance of the project itself. However, our price predictions focus majorly on the past behavior of the cryptocurrency's price. The price of GMT has been relatively stable, and the projections show that the forecasted prices are relatively stable. The average predicted price of STEPN by the end of 2022 is $1.92. The prices after that are projected to continue rising steadily, increasing the profit potential for holding GMT tokens for the long term. Essentially, it is forecasted that the average value of STEPN coin by 2031 will be $38.86.
The above is a summary of the much more concise price prediction data prepared by Crryptopolitan; however, before we delve deep, let's see what other crypto price prediction websites say about STEPN's future price.
Walletinvestor
The Wallet Investor team has released a pessimistic prediction on the STEPN GMT token. The price prediction is based on the latest prices of STEPN as well as historical data. The platform uses smart technical analysis to predict the future values of cryptocurrencies. According to their forecasts, the average forecast price of STEPN will drop significantly, to trade at a minimum price of $0.0868 within one year, translating to significant losses for short-term crypto holders who invest today.
TradingBeasts
Unlike Wallet Investor, the Trading Beasts platform is positive with its price predictions for STEPN in 2022 and beyond. Essentially their predictions insinuate a steady positive growth of the cryptocurrency, following the trend analysis conducted. Based on their findings, the STEPN GMT price could reach $2 by the beginning of 2024. The platform projects that the price of GMT could reach a maximum value of $2.601 by the end of 2025, registering a 222.75% growth from its current price.
Cryptopolitan
| | | | |
| --- | --- | --- | --- |
| Year | Minimum Price | Average Price | Maximum Price |
| 2022 | 1.85 | 1.92 | 2.1 |
| 2023 | 2.71 | 2.79 | 3.28 |
| 2024 | 4.1 | 4.21 | 4.65 |
| 2025 | 6.07 | 6.24 | 7.16 |
| 2026 | 8.75 | 9.07 | 10.44 |
| 2027 | 12.47 | 12.92 | 15.46 |
| 2028 | 17.41 | 18.06 | 21.4 |
| 2029 | 25.26 | 25.98 | 30.84 |
| 2030 | 37.83 | 38.86 | 45.4 |
| 2031 | 56.19 | 58.13 | 67.57 |
Cryptopolitan performs price forecasts using a combination of data. The most essential data is the current price and the past price behavior of a cryptocurrency. When analyzing the price of GMT, we realize the general performance of the cryptocurrency has been steady and in a positive direction. For any crypto coin, there are expectations for price fluctuations of minimal or significant intensity. The fluctuations in prices are common and are often attributed to market volatility. However, although market volatility exists, individual crypto coins possess their own volatility indices. The price prediction of GMT, for instance, takes into account the anticipated volatility expected from the coin itself as well as the market.
The price prediction of GMT price provides a predicted range of prices as well as the expected average trading price. Below is a detailed breakdown of the projected GMT prices from 2022 to 2031.
STEPN  Price Prediction 2022
GMT price prediction 2022 shows that cryptocurrency prices will increase modestly from their current price. Minimal changes are expected to occur during this period from the time of this writing to December 2022. Based on Cryptopolitan's analysis, the highest possible price for GMT tokens by December 2022 is $2.10. Typically this is an ambitious forecast.
STEPN  Price Prediction 2023
The GMT price prediction 2023 appears to be equally bullish. The price chart appears to gain significant momentum since it's predicted that the current bear market will have flipped to a bullish market. Therefore, the predicted prices of GMT show that the average trading price of GMT in 2023 is $2.79, indicating a significant growth from the current price.
STEPN  Price Prediction 2024
In 2024, the crypto market, in general, appears to be moving in an upward trend. Techincal analysis performed on the STEPN GMT price chart indicates a general uptrend. The estimated prices are higher than previously recorded prices in 2023. As per the findings, the price of STEPN is expected to range between $4.10 and $4.55.
STEPN  Price Prediction 2025
By 2025, the predictions indicate that the price of STEPN GMT could hit the $7 trading price. However, the prediction indicated the highest possible price. According to the analyses, the average price of the STEPN GMT coin is $6.24.
STEPN  Price Prediction 2026
STEPN GMT coin price is projected to grow exponentially in 2026. The token is projected to record significant gains in 2026. Per the forecasts, the expected minimum price of GMT IN 2026 is $8.75, while the projected maximum trading price is $10.44. According to these price forecasts, we expect STEPN to hit the $10 mark by 2026 for the first time.
STEPN  Price Prediction 2027
By 2027, the STEPN GMT price prediction positions the crypto asset as a bullish coin. Essentially, the prices increase periodically, however, the growth is characterized by price retraces throughout the year. The price prognosis shows a general increase in the market cap as well as the price of the token, estimating the minimum price to be $12.47 and the maximum price to be $15.46.
STEPN  Price Prediction 2028
In 2028, the STEPN GMT coin continues to behave in a bullish manner. The token generally records price gains from Jan to December of 2028, however, the growth isn't smooth. Despite the volatility, the price prediction for 2028 shows GMT price will average at $18.06, with a possible maximum value of $21.40.
STEPN  Price Prediction 2029
The price prediction of GMT price will increase steadily in 2029, recording a minimum price of $25.26 and a maximum price of $30.84. The predicted GMT average trading price is $25.98 in 2029.
STEPN  Price Prediction 2030
By 2030, the crypto market, in general, appears to be taking an upward trend. The analysis performed on the STEPN GMT price chart indicates positive growth. As per the findings, the price of STEPN is expected to range between $37.83 and $45.40
STEPN  Price Prediction 2031
After 2030, the STEPN GMT token appears to demonstrate an explosive growth rate. The growth rate, should it be realized, will ensure that long-term holders reap significant gains from their GMT crypto assets. The projections show that STEPN GMT's price could range between $56.19 and $67.57 in 2031.
STEPN  Price Predictions by Industry Influencers
Industry influencers, as the name, suggest often shape the future of a cryptocurrency. Coins with a solid community of supporters often withstand the test of time during rigorous bear markets. STEPN GMT has received significant support from Twitter crypto writers and influencers, indicating a healthy future for STEPN GMT cryptocurrency. Below is a sample tweet that backs the growth of STEPN GMT for the long term.