Sports
The Real Winners and Losers from UFC on ESPN 38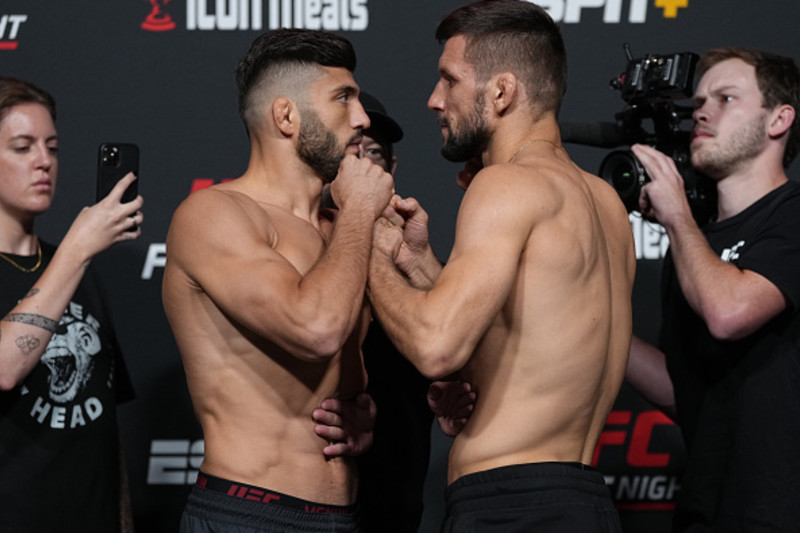 Call it the premium cable calm before the pay-per-view storm.
One week before the UFC 276 extravaganza takes place a few miles down the road at the T-Mobile Arena, the mixed martial arts conglomerate was in Fight Night mode on Saturday with a 12-bout card from its Apex facility home base in Las Vegas.
Two fights matching ranked contenders topped a six-bout main show that was broadcast live by ESPN with a crew of Michael Bisping, Paul Felder and Brendan Fitzgerald at the announce table and Megan Olivi working the rest of the room with breaking news and feature pieces.
The B/R combat sports team was in position to take it all in and assemble a definitive list of the card's winners and losers.
Scroll through to see what we came up with, and drop a thought or two of your own in the comments section.
Winner: Going the Frenetic Distance
1 OF 6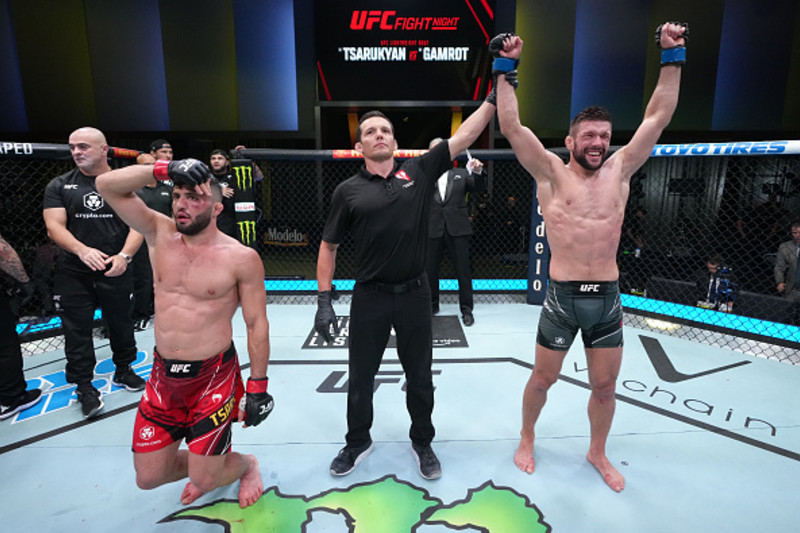 Jeff Bottari/Zuffa LLC
It wasn't the stuff of fights or knockouts of the year.
So if you're hunting for titillating YouTube highlights, take our advice and don't bother.
But if you're a fan of high-speed chess with a violent objective, the main event between closely ranked lightweights Arman Tsarukyan and Mateusz Gamrot was a good watch.
"It's like watching a Tasmanian Devil cartoon, but they're not just rolling around like maniacs," Bisping said. "It's calculated madness."
Indeed, the 11th- and 12th-ranked 155-pounders went back and forth with punches, kicks, takedowns and grappling exchanges across 25 minutes before Gamrot was awarded a unanimous decision by matching 48-47 scores across the board.
B/R saw it the same, giving Gamrot the final three rounds after Tsarukyan won the first two.
"In this game you have to be confident," Gamrot said.
"It was a very tough fight. I am ready for every single guy in the division."
Gamrot entered with three straight wins after a loss in his UFC debut two years ago and did his best work on the ground, scoring six takedowns across five rounds and running up better than four minutes of control time.
The consistent scrambling gradually compromised Tsarukyan, who'd never gone past three rounds in 20 pro fights. Gamrot had two five-rounders and finished one fight in four rounds before arriving to the UFC.
Tsarukyan, who landed more significant and overall strikes, dropped to his knees when the verdict was announced and was visibly upset upon speaking with Bisping.
"I don't know what happened. This camp was very good. I had to show better fight than this one," he said. "It was my first fight going five rounds and that was difficult. I will learn from mistakes and come back better. But I thought I won three rounds. I can watch it again and maybe I'll understand."
Winner: Sustaining the Streaks
2 OF 6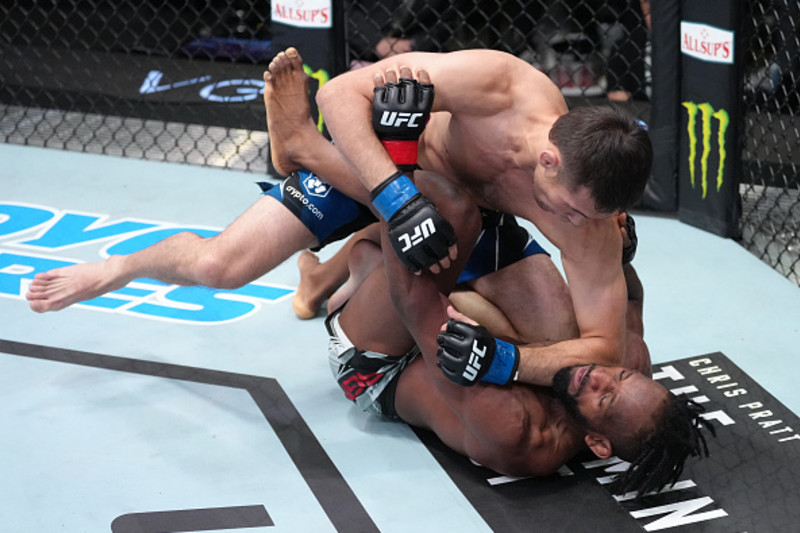 Jeff Bottari/Zuffa LLC
Shavkat Rakhmonov was all-in on the streaks.
He entered Saturday's co-main event with Neal Magny having won 15 straight fights, all by finishes. That included one of the UFC welterweight division's longest active streaks (3) and one of the entire promotion's longest active finish streaks (3).
And he showed precisely zero signs of letting those streaks end anytime soon.
The Kazakhstan-based Sambo ace flustered his veteran foe with consistent pressure, got him to the ground with relative ease and eventually chased, and secured a guillotine choke finish with just two seconds remaining in the second round.
It was the 15th time in 16 fights he's finished inside of two rounds.
"Just when I thought the bell was gonna go and this isn't gonna work, he isn't gonna get it," Bisping said, "it just shows how much technique he has."
Indeed, Rakhmonov was able to keep Magny on the mat for better than three minutes in the second round and diffused several scrambling escape attempts before working himself into position and securing Magny's neck with his left arm.
The 34-year-old was rescued by referee Chris Tognoni and fell short on his attempt to break a tie for the UFC welterweight win record (19) that he now shares with Georges St-Pierre.
"Neal Magny was good. That's why I didn't rush. I took my time," Rakhmonov said. "I knew I was winning so I didn't rush. I looked for opportunities. Once it presented itself, I took it."
The winner, who entered at No. 15 in the UFC rankings, followed up with a callout of longtime contender Stephen Thompson, who's ranked seventh.
Magny had been ranked 10th.
"One or two years," Rakhmonov said, "and I am champion."
Loser: Passing the Audition
3 OF 6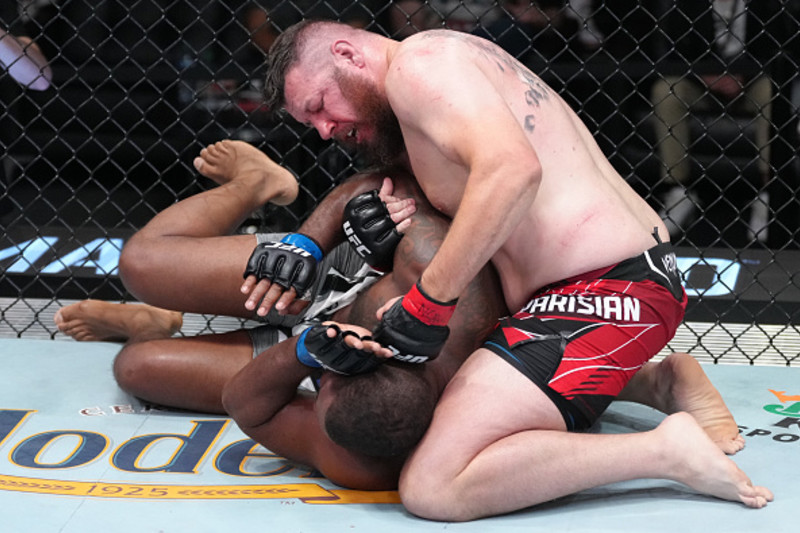 Jeff Bottari/Zuffa LLC
The UFC is making its first trip to France later this year.
So it's no shock that heavyweight Alan Baudot was hoping for an impressive Saturday performance that'd put him on the matchmaking radar for the international show.
Didn't happen.
The burly 34-year-old dominated early but soon gassed out, was taken down several times and eventually pummeled to a second-round TKO stoppage by Josh Parisian.
It was a third loss alongside a no-contest in four UFC fights for Baudot, who dropped Parisian with a right hand in the first round and battered him with a series of ground strikes before Michigan-based big man got back to his feet with a swollen, bloody left eye.
The tide turned when Parisian was successful on a double-leg takedown attempt in the final 20 seconds and threw more than two dozen right-hand strikes before the round's end.
He went right back to that approach in the second, scored two more takedowns in the first two-plus minutes and followed with another barrage of strikes until referee Mark Smith finally stepped in at 3:04.
"I thought he didn't have anything for me on the ground and once my corner told me that (at the end of the first round) it just cemented it," he said.
It was Parisian's second win in four UFC fights since graduating from Dana White's Contender Series in 2020.
"I must've been pretty hurt, because I don't remember it," he said when Bisping asked how badly he was rocked by Baudot's first-round strike.
"I was gonna jump in your arms but I don't have the energy."
Loser: Appearing Superhuman
4 OF 6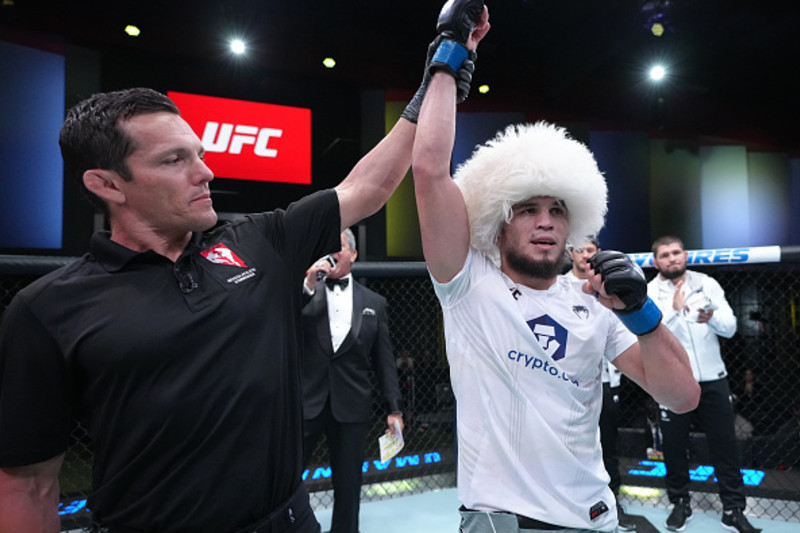 Jeff Bottari/Zuffa LLC
First things first: Umar Nurmagomedov won his fight with Nate Maness.
Easily.
But while the victory came after the Russian had dominated every second of a 15-minute bout, those expecting fireworks, or even highlights, are still waiting.
A cousin and training pupil of the former lightweight champion and soon-to-be UFC Hall of Famer, Nurmagomedov scored a takedown in each round, established better than 10 minutes of ground control time by the final bell and raised a ghastly knot on his foe's forehead.
Still, while the win boosted him to 15-0 overall and 3-0 in the UFC, he not only failed to score the ninth finish of his career, he never really got close to one. Instead, he seemed content to get Maness to the mat, work to a control position and not risk making a mistake.
Bisping, while clearly respecting Nurmagomedov's game, didn't hesitate to chide him a bit for not stepping on the gas when it seemed an option.
"If you want to be great, if you have that star quality, people do want to see you take chances," he said. "To try and put a nail in his coffin, so to speak."
Nurmagomedov seemed unconcerned by the critique and instead suggested he was prepared to be matched with the truly elite operators in the bantamweight division.
"I think next or after next I'm going to be in the top 10, then we'll see," he said. "I'm ready. If they said tomorrow I'm going to fight for a belt, I'm ready."
Winner: Repping the Home Team
5 OF 6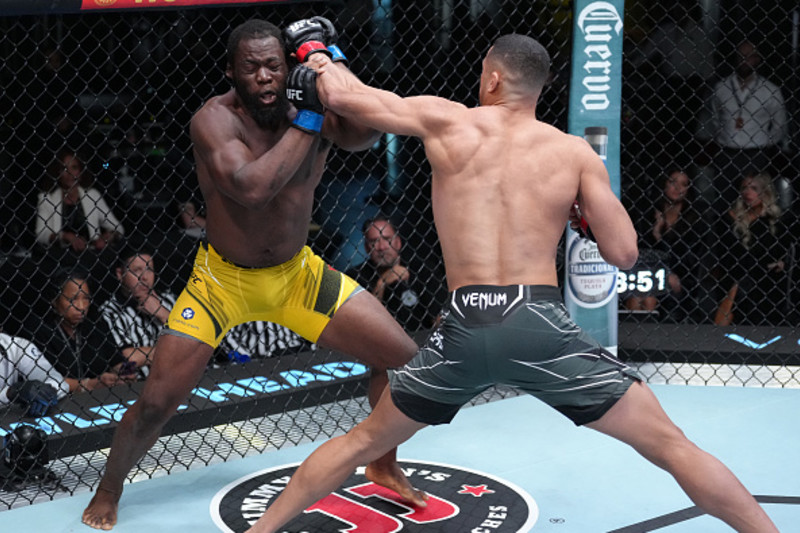 Jeff Bottari/Zuffa LLC
Dealing with a UFC-quality foe is hard enough.
But doing so with your friends and family in the audience is an extra challenge.
Carlos Ulberg was up to both tasks on Saturday night.
A City Kickboxing teammate of UFC 276 headliners Israel Adesanya and Alexander Volkanovski, the New Zealand-based light heavyweight got an on-site thumbs-up from both colleagues with an abrupt first-round stoppage of Tafon Nchukwi.
Ulberg landed the fight's decisive blow when he leaned backward and connected flush to Nchukwi's jaw with a hybrid jab/hook with the left hand.
Nchukwi immediately reeled backward and Ulberg pounced, landing another half-dozen shots before referee Herb Dean stepped in to rescue his stricken opponent at 1:15.
"I'd seen his game," Ulberg said. "He seemed to parry with the right hand so I knew (the left-hand strike) was going to be there eventually.".
The win was Ulberg's second straight in the UFC after his octagonal run began with a second-round loss to Kennedy Nzechukwu at UFC 259, headlined by Adesanya's fight with Jan Blachowicz, in Las Vegas.
"I'm new to the sport of MMA but I work and I work fast and I have a good team behind me," he said. "It's all inspiration. We all work together. We all keep other sharp and I'm happy to have (Adesanya and Volkanovski) on my team."
Full Card Results
6 OF 6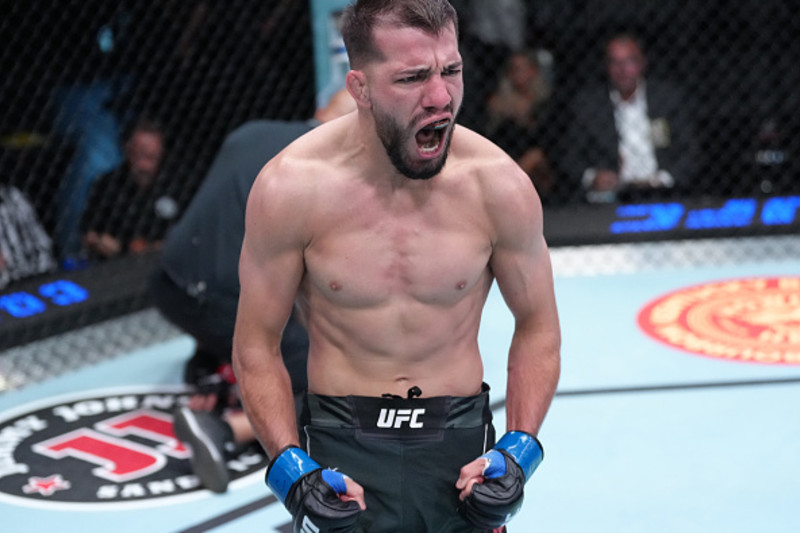 Jeff Bottari/Zuffa LLC
Main Card
Mateusz Gamrot def. Arman Tsarukyan by unanimous decision (48-47, 48-47, 48-47)
Shavkat Rakhmonov def. Neil Magny by submission (guillotine choke), 4:58, Round 2
Josh Parisian def. Alan Baudot by KO (punches), 3:04, Round 2
Thiago Moises def. Christos Giagos by submission (rear-naked choke), 3:05, Round 1
Umar Nurmagomedov def. Nate Maness by unanimous decision (30-27, 30-26, 30-25)
Chris Curtis def. Rodolfo Vieira by unanimous decision (29-28, 29-28, 29-28)
Preliminary Card
Carlos Ulberg def. Tafon Nchukwi by KO (punches), 1:15. Round 1
Shayilan Nuerdanbieke def. TJ Brown by unanimous decision (29-28, 29-28, 29-28)
Sergey Morozov def. Raulian Paiva by unanimous decision (29-28, 29-28, 29-28)
Cody Durden def. JP Buys by KO (punch), 1:08, Round 1
Mario Bautista def. Brian Kelleher by submission (rear-naked choke), 2:27, Round 1
Vanessa Demopoulos def. Jinh Yu Frey by split decision (29-28, 28-29, 30-27