Sports
College World Series 2022: Predictions, Prospects to Watch on Monday's Schedule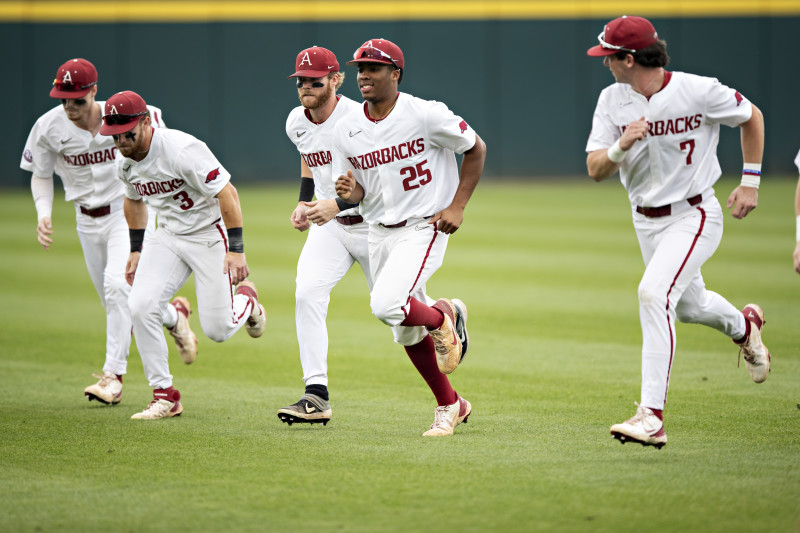 The four College World Series participants that were not national seeds in the NCAA baseball tournament thrived in the first set of games in Omaha, Nebraska.
That set up a clash between the Arkansas Razorbacks and Ole Miss Rebels in the winners' side of the bottom half of the bracket on Monday.
Arkansas slugged its way to its first victory in Omaha, as it beat the second-ranked Stanford Cardinal, 17-2.
Ole Miss used a strong outing from ace Dylan DeLucia to earn a 5-1 win over the 14th-seeded Auburn Tigers.
Auburn and Stanford open Monday's two-game schedule with an elimination game that features some of the best hitters in the sport.
Stanford's Brock Jones could be a first-round pick in the 2022 MLB draft, while Auburn's Sonny DiChiara is one of the best power hitters in college baseball.
The Arkansas-Ole Miss winner needs one victory to reach the championship series. The Arkansas-Ole Miss loser and the Auburn-Stanford winner face off in an elimination game on Tuesday.
1 OF 2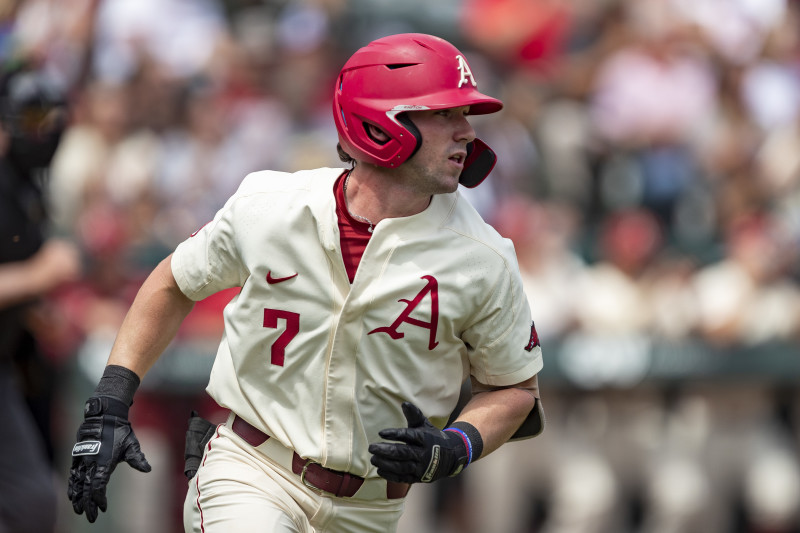 Wesley Hitt/Getty Images
Prospects To Watch:
Cayden Wallace, 3B, Arkansas
Tim Elko, IF, Ole Miss
The all-SEC West battle between Arkansas and Ole Miss should have more offensive fireworks than Ole Miss' opening win over Auburn.
Ole Miss rode ace Dylan DeLucia through 7.2 innings. He struck out 10 batters and conceded just four hits and an earned run.
The Rebels will have to call on their bats to down an Arkansas team that comes into Monday with a red-hot lineup.
Tim Elko is Ole Miss' top slugger. He led the team with 22 home runs. He went 1-for-4 in his College World Series debut.
The Arkansas pitching staff may pitch around Elko to make Ole Miss' other sluggers beat it, but that strategy did not work well for Auburn. Ole Miss got seven hits from the fourth through seventh batters in its order.
Arkansas won the regular-season series with its SEC West rival by taking the second and third games of that weekend. Cayden Wallace went 3-for-7 out of the leadoff position in those games for the Razorbacks.
Wallace is a borderline first-round prospect for the 2022 MLB draft. MLB.com's Jonathan Mayo has Wallace at No. 39 in his latest mock draft. No Ole Miss players landed in the first round of that mock.
Wallace has the potential to elevate his stock a bit more with a few more strong performances in Omaha. He went 3-for-6 with three RBI in the win over Stanford.
Arkansas has experience beating the pitchers on Ole Miss' staff not named DeLucia and that could help it navigate the first few innings of Monday's contest.
It is hard to pick against Arkansas' bats, if they continue to produce at the same level as Saturday, and that should give the Razorbacks the edge to move one win away from the championship series.
Prediction: Arkansas 8, Ole Miss 4
2 OF 2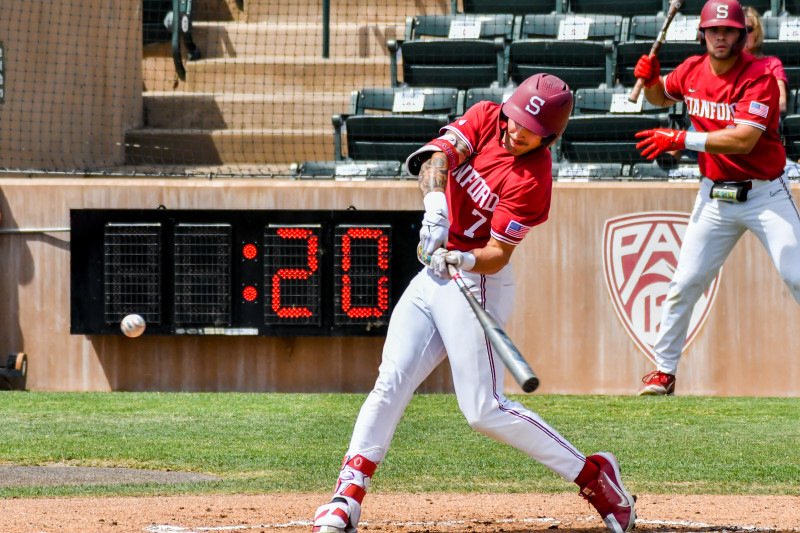 Douglas Stringer/Icon Sportswire via Getty Images
Prospects to Watch:
Brock Jones, OF, Stanford
Sonny DiChiara, 1B, Auburn
Auburn and Stanford need their bats to wake up in Monday's opener. The two teams combined for three runs in their first games in Omaha.
Stanford outfielder Brock Jones, who is the No. 21 pick in Mayo's mock draft, and Auburn first baseman Sonny DiChiara will be expected to be the catalysts of both offenses.
Jones owns a .325 batting average with 21 home runs. DiChiara is a .389 hitter with 22 home runs to his name.
Both prospects can change the game with one swing, which is why both pitching staffs may not give them much to hit.
Auburn and Stanford may make the eight hitters around the top sluggers beat them instead of going head-to-head with the top players.
Stanford is better suited to win a game without Jones since it has four players with a better batting average than the projected first-round pick and four others with 13 or more home runs. Auburn's next-best home-run hitter has nine long balls.
Stanford is not in an ideal situation, but it is one it used to being in this postseason. The Cardinal lost the first games of the regional and super regional rounds before rebounding to get to Omaha.
The Pac-12 champion can bank on that experience to rally itself and get past the SEC West side to set up a matchup with the Ole Miss-Arkansas loser.
Both teams should produce more runs than their openers, but Stanford has the potential to outslug Auburn up and down its lineup. The Cardinal produced eight runs in each game following a loss in the NCAA tournament, and they could put up more if their bats get going early.
Prediction: Stanford 10, Auburn 4